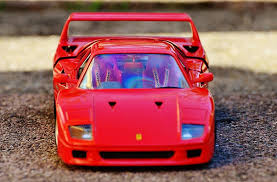 We would be making a huge mistake to talk about Ferrari without mentioning the founder of Ferrari Enzo Ferrari, used to work for Alfa Romeo. From the time he was twelve years old, Enzo knew that he wanted to be a rally driver. In the year 1929 Enzo left Alfa and started Scuderia Ferrari in Modena.
Scuderia Ferrari
Enzo Ferrari left employment to start his own company in 1929. Scuderia Ferrari was born and the racing cars used during this time never had the Ferrari's name. Race cars from Romeo came to Scuderia for tuning.
Ferrari survived the war
When Enzo Ferrari left Romeo, there was an agreement between the two that Ferrari wouldn't his name in connection in racing for a period of four years. During the four years agreement, the racing was curtailed by World War II. It is during this period that Ferrari relocated toMaranello from Modena. In 1945 the company started working on a 12 cylinder engine which was complete in 1947. Enzo Ferrari became the first on to drive 125 S out of the Ferrari factory gates. In the late 1940's Luigi Chinetti made history as he was the first driver to import Ferrari's to the U.S. One of the cars he imported was the 166 inter.
Time to race
In the 1950's Ferrari had acquired services of legendary engineers like Jano and Lampredi and the likes of Pinin Farina who was legendary bodies designer. In 1951, Ferrari brought home the first victory for the company and the Ferrari 375 was the hero of the day. . The375 hit the market in 1953 and the production grew to 70 to 80 cars per year. Sadly, Enzo own son who greatly helped in the developing of the v6 engine died at the age of 24.
Rough times
The 60's started pretty well for Ferrari. In 1961, Phil Hill won the F1 championship. The 1.5 ltr v6 car nicknamed 'Dino' brought all this glory. Ferrari was undergoing a financial crisis even though this was not the first time. Enzo and ford were about to strike a deal to sell part of the Ferrari but Enzo walked out of the deal. However Ferrari sold part of its company to Fiat.
The success
Luca di Montezemolo harnessed the success of prancing horse. This supercar continued with the production of the F50. The 90s had a lot in store for Ferrari. The production of the Testarossa continued through the mid 90s. Ferrari met its match and ruled the motor racing when the German driver Michael Schumacher helped Ferrari win seven F1 championships in the year 1994 to 2004. People who love to drive racing would love to read about the history of Ferrari which is about more than ninty years.